(CNN) — Walk down any street in 
Vietnam
, and it quickly becomes apparent this is a country that's crazy about coffee. From people sipping and sitting on low plastic stools on the sidewalk while gossiping with friends, to those who prefer the pricier, hipster-style cafes popping up around Ho Chi Minh City and Hanoi, the need for caffeine is inescapable.
Everyone at Hanoi's humble Cafe Giang however, is after something more than just a caffeine fix. They've come for "cà phê trúng," or egg coffee, a Hanoi specialty in which a creamy soft, meringue-like egg white foam is perched on dense Vietnamese coffee.
While 
destinations
 across the city now serve it, this cafe claims to have invented it.
There are hot and cold versions. The former is served as a a yellow concoction in a small glass. It's consumed with a spoon and tastes almost like a coffee flavored ice cream — more like a dessert than coffee.
The hot version comes resting in a small dish of hot water to maintain its temperature. The strong coffee taste at the bottom of the cup seeps through the egg — the yellow layer on top — and is quite thick and sweet, though not sickly.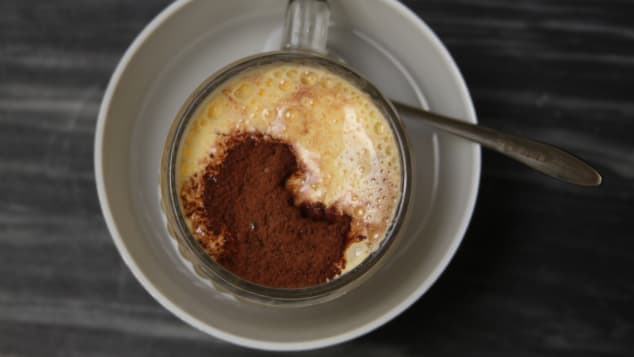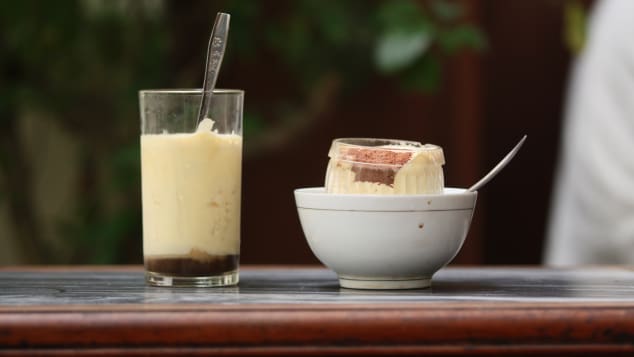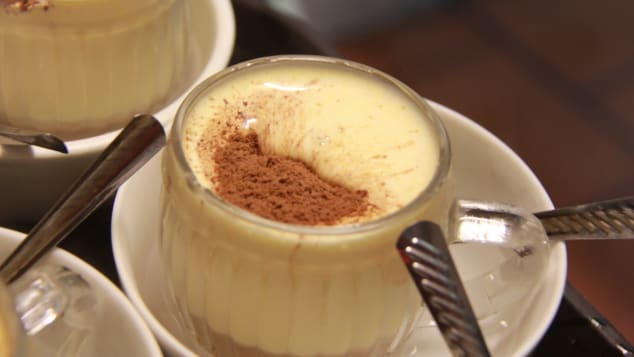 'I've never had a client not like it'
Mark Lowerson, who runs Street Eats Hanoi, takes tourists from all over the globe on food tours and says egg coffee always goes down well.
"For the vast majority of our clients, the egg coffee experience is a revelation" he says. "The wow factor is high. When I start describing it, they can't put two and two together. 'Egg' and 'coffee', together? It's pretty hard to get a coherent image of those two ingredients in a cup together. It's always fun.
"I've never had a client not like it. Most devour it and swear they're coming back for one every day they're in Hanoi. Even people who are not normally coffee drinkers can be surprised.
That said, he admits some people find it too rich to finish. "It is a very decadent way to get a caffeine hit, let's face it."
Vietnamese coffee culture
Influenced by the Chinese, who ruled the country for 1,000 years, traditionally Vietnam was a tea-drinking nation.
So what makes coffee so popular today?
"I can't really answer that with complete confidence, but I do believe it started with French influence, which makes sense given the popularity of bread and cheese," says Will Frith, a specialty coffee consultant who has worked n in Dalat in the central highlands of Vietnam.
"The French introduced coffee to Vietnam, mainly as a way to supply their own colonial expat populations. As Vietnam became influenced by other economic forces and collaborators from Europe — the French in 1860s through the early 20th century and the Germans mid-century, which opened them up to instant coffee production — coffee started to make its way into cities, where popularity has increased ever since."
Nowadays coffee culture is very much entwined in Vietnamese life.
"The older generation prefer to sit at sidewalk cafes, smoke cigarettes and socialize," explains Frith. "Many will sip on coffee all day long. The younger generation is into the more European-influenced cafe experience, going out to be seen in cafes and to socialize with friends. Many of these cafes are decorated like discotheques, with loud club music to match."
As for some of the new coffee trends in Vietnam, Frith says there's a growing interest in all things natural and specialty.
"Hand-crafted goods, elegant presentation and novel experiences are sought after and specialty cafes are popping up all over Ho Chi Minh City, with other cities also starting to see a little activity in this segment," he says.
"Anything mixed or blended with milk and sugar will find an enthusiastic audience." Something that Cafe Giang's Van Dao knows all too well.
"I feel very honored and happy to have so many tourists come here and know our brand," he says, motioning to his packed cafe full of both locals and tourists.
So what makes his egg coffee stand out from the others offering the same drink across the capital?
"The difference is in the recipe," he says, matter-of-factly. "Many others have tried to copy it but the taste is just not the same."